Out of the Bowl!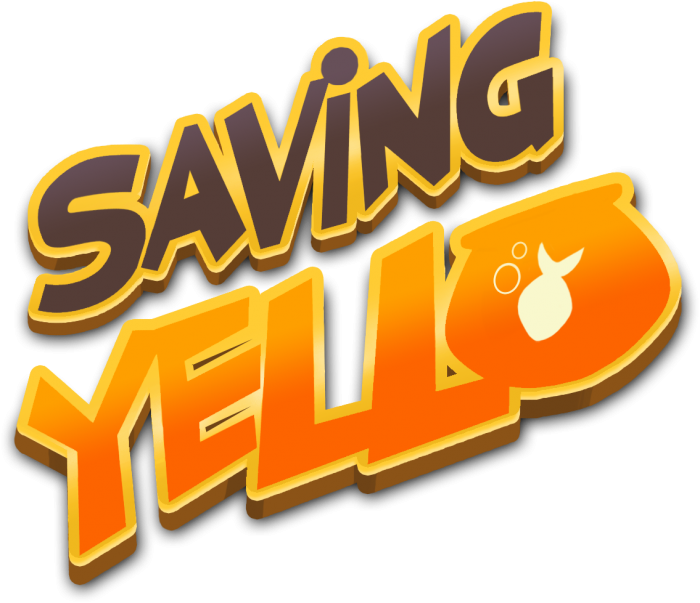 Today we are happy to announce with Tactile Entertainment the upcoming release of Saving Yello for iOS on November 17th of this year!  Saving Yello is a fast fun fish flinging physics puzzle platformer!  So whether you prefer your fish raw, fried or swimming free, mobile gamers should get ready to pull Yello's tail, take aim, and fire!
Yello is an unlucky goldfish who is at the mercy of his 7 year old owner, Mathilda.  A mischievous little girl; she loves to take Yello out of his fishbowl and watch him 'dance' on the floor.  That is when YOU must save him! You have a limited number of chances to pull his tail and launch him through a dangerous obstacle course filled with building blocks, stuffed animals, dolls, and other toys.  To get through this course and collect points and achievements along the way players will have a range of destruction mechanics available at their disposal.  One of these mechanics are power-ups which include pin cushions that allow Yello to stick to surfaces to add more vertical gameplay, fire, ice, and even dynamite that allow him to burn, freeze and blow his way through walls of building blocks and set off huge chain reactions that causes the score multiplier to jump to all new heights!   Of course materials react differently to different power-ups and players can even collect multiple power-ups at the same time to combine them in explosive ways!
With 40 levels spread over 3 settings this game will quickly turn into a brain teasing high score chase as players start collecting all the toy combinations and setting off massive chain reactions!
So keep checking our webpage, Twitter and Facebook updates for more news, screenshots, and information as it is released and get ready for some physics based fish flinging fun!